Monday Musts is a weekly meme created by Jessica of Lovin' Los Libros. The three categories are Must read, Must Listen and Must See. Pick a book that is a must read, a song that is a must listen and something that you think is a must see. If you would like to find out more information you can click here to be taken straight to her blog.
I've decided that I'm going to tie two of these sort of together.
Must Read: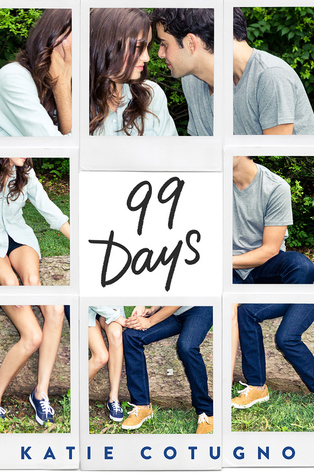 Day 1: Julia Donnelly eggs my house my first night back in Star Lake, and that's how I know everyone still remembers everything—how I destroyed my relationship with Patrick the night everything happened with his brother, Gabe. How I wrecked their whole family. Now I'm serving out my summer like a jail sentence: Just ninety-nine days till I can leave for college, and be done.

Day 4: A nasty note on my windshield makes it clear Julia isn't finished. I'm expecting a fight when someone taps me on the shoulder, but it's just Gabe, home from college and actually happy to see me. "For what it's worth, Molly Barlow," he says, "I'm really glad you're back."

Day 12: Gabe got me to come to this party, and I'm actually having fun. I think he's about to kiss me—and that's when I see Patrick. My Patrick, who's supposed to be clear across the country. My Patrick, who's never going to forgive me.
This book has a lot of mixed reviews. I, for one, actually really enjoyed reading it. That being said, I did have some problems with it. I still thought it was a good read.
I read this last summer while sitting by the pool in Portugal so, if you're looking for a summer read, here you go!
Must Listen:
My Soul is Empty and Full of White Girls by Slaves. This song is kind of old- it came out two years ago- but I really love it. I guess it would be classified as alternative or rock and if you don't like that I still think you should check it out because it's a great song. You should check out the band really. All of their music is good.
Warning: when looking them up, you may not find them because there is another band by the same name from the UK. They usually appear first. If you can't find them, follow the link above and find more songs through there.
Must See:
A young, devout Catholic woman discovers that she was accidentally artificially inseminated.

(Beware if you click the link above. It takes you to the IMDB page which has spoilers because it has info on episodes in season two. Yes, I've just been spoiled.)
My friend has been trying to convince me to watch it for quite some time and Saturday I finally decided to start watching it! I got so hooked. I had so much to do and I only did one thing on my to-do list.
Currently writing this (Sunday 1:22 pm), I'm on episode seventeen. I started watching it on Netflix and sometimes it's ridiculous but oh my god, it's addictive!!
If you've seen this show, comment please! I only have one other person to gush about this to.
This relates to 99 Days because there's drama with 2 guys. I feel the exact same way watching this as I did when I read 99 Days.
Thanks for reading!
What are your monday musts?