Hey, how's everyone doing?
I'm not really one for wrap-ups but I thought this month, why not? May was a little hectic for me and so my posting got very rare then. But, I'm back and my posts were a little random so I thought I'd just clean everything up with a wrap up.
Firstly, I'm starting with:
I read 6 books this month and am 3/4 of the way through another.
The first two books are Wattpad books.
I read He's My Mate by Brink1314. This is a werewolf romance about a girl Alison who finds her mate in the alpha's son. I featured this in discussion post recently. Overall, this books was pretty enjoyable but the storyline was very cliché and un-original. It also ends in a ridiculous cliff-hanger. There is a book two. If you read my discussion post, you will be spoiled for the ending. Alarik was kind of an asshole through a lot of this book and that annoyed me.
Rating:
The other book I read on Wattpad is Menacingly by ASummers1. This book was a book about a woman with a mysterious past who has a run in with Adriano who is a pa
rt of the mafia, living in New York. It is an unrealistic romance but I like those. I liked this a lot better than I did He's My Mate. The story, although unoriginal in it's basic plot, had it's own little unique quirks. The only thing that I didn't enjoy about this book was the fact that in started with switching between third perspective and first. That was quite annoying but as the characters got together more, there was no need for separate scene and it stayed in one perspective. I really liked the interaction between the two main characters Angela and Adriano, as well as all of the secondary characters. It's funny, there's a character called "Adamo" and I just kept thinking of Fat Tony from The Simpsons.
Rating:
The other books were published books.
The first book is My Demons, Best Friends by Diana T. Scott. It follows Ava and Sebastian who are medical residents and are both dealing with a lot of problems. I had a lot of problems with the books and most of them were mainly down to the writing. The writing was very simplistic and plain, the dialogue sounded very forced and the grammar was not the best. That being said, it seems it has been edited since I received the book from the author as a Christmas freebie during December. But, I read this version so I didn't estimate on how much I would have like it, had it been edited.
Rating:
FULL REVIEW: Our Demons, Best Friends by Diana T. Scott
My Favourite Manson Girl by Alison Umminger is another book I read this month. I received this book of Atom Books. This follows Anna who runs away to LA for the summer to live with her sister. She gets pulled into researching about Charles Manson and his family for her sister's ex-boyfriends new movie. I really liked this book and I think more people need to read it. It is a new release and came out this month.
Rating:
FULL REVIEW: My Favourite Manson Girl by Alison Umminger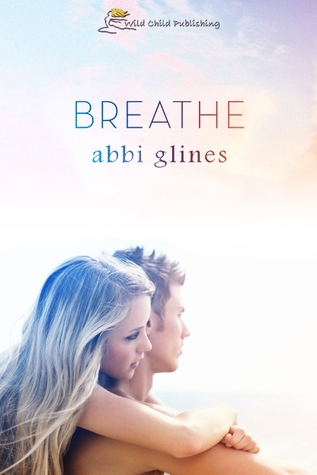 I listened to the audiobook of Breathe by Abbi Glines this month. This is the first audiobook I've listened to. I really enjoyed this book and it was also quite a good audiobook experience. There were a few moments that I was slightly uncomfortable listening to but I got through it. I really liked the characters of this novel and will definitely be continuing.
Rating:
FULL REVIEW: Breathe by Abbi Glines | Audiobook review
Summer Sky by Lisa Swallow needs more reads! I really enjoyed this book. It follows two characters who meet when they crash cars. They end up staying a couple days during the summer in the same house. Dylan, the hero, went there to get away from his fame and Sky, the heroine, went there to get away from her cheating ex boyfriend. I really enjoyed this book and although the romance is quick, it doesn't seem like that when you're reading it. It doesn't seem insta-lovey at all.
Rating:
There are a few books that I have been reading for quite some time but I'm only including ones started this month. The last book is Geek Girl by Holly Smale. I am 3/4 of the way through and am really enjoying reading it. It's really quick and easy to fly through.
I think I had a pretty good reading month! I enjoyed all of the plots of each book but some were let downs for other reasons as you can see. But, I'm pretty happy with how I did.
TAG THURSDAY:
DISCUSSIONS:
RANDOM POSTS:
I was quite absent at the start of the month but I got better with posting as the month went on. Hopefully, July's reading is just as good, if not better, as June's.
What book(s) did you read during June?
Thanks for reading!