I am terrible at keeping to my TBR list. I think I only finished one book from my May TBR. This month, three of these books are for review and one is one I really want to get to. This is a small TBR list but at least I can get them finished now.
Shoot the Gap by Jordan Ford. This book was sent to me by the author for review this month. It is book four and the final book in the Big Play series.
This book is set to release July 15th.
Tyler Schumann has always been known as Nelson High's goofy clown, the guy with the big mouth. But there's something people don't know: he's tired of being in the shadows of his Raiders' buddies, and he's ready to do whatever it takes to get the one girl in school he wants to finally notice him: Roxanne Carmichael.

Sammy Carmichael is just one of the guys, known for her mad boarding skills and her razor-sharp wit. But she has a secret, too—a crush on her best friend. It's a relationship she's not willing to risk damaging by getting all romantic about it.

When Tyler asks for Sammy's help, she's stoked to be able to spend a little one-on-one time with him. Their secret mission will bring them closer together…until she realizes what he's really after—her sister. Tired of being in the shadows herself, Sammy sets out on a mission of her own to prove that she's the Carmichael girl he really wants.

But the secrets and lies she discovers as she embarks on her quest could tear her relationship with Tyler to shreds, and Sammy must decide which lies are worth exposing and how much damage the truth will cause.
To Trust a Wolf by Danielle Hardgrave.
I was sent this book for review by the author.
As an archivist in a small museum, the biggest thing Helen Jurist has to deal with each year is the Annual Donor Gala. When her museum becomes a flurry of activity, due to the nearby discovery of a large Viking hoard, Helen finds the additional responsibility more of a pain than an honour. She doesn't know anything about Vikings, or what makes the hoard so unusual. She just wants to get through the gala without her boss catching the drapes on fire.

Nobody from the public is supposed to have access to the find, but try telling that to Rune Helsen. A handsome Dane with wolfish desires, he walks around like he owns the place. He's Helen's worst nightmare—if only her traitorous body wasn't so attracted to him.

But Rune has a secret, one that brought him to see the artifacts for more than just scholarly interest. Unknown to Helen, there's so much more at stake than just pulling off a successful evening. A whole world she never knew existed, a world of vampires and shifters, stands on the precipice—and there's something in the Cutler Hoard that could burn it all down.
Feel Me Break by Tara R.
I was sent this book for review by the author. It is a New Adult prequel novella.
Chloe Reed and Nick Grayson couldn't have more different lives. Where Chloe had a bleak future and was trying to deal with a loss that had left a hole in her heart, Nick was a happy-go-lucky guy, leading a carefree life with a path set.

Until one fateful night, they met and everything changed. The night that gave Chloe hope for the future, left Nick scarred for life. Was their meeting a one-off tryst or was their story just beginning?
Fever by Melissa Pearl.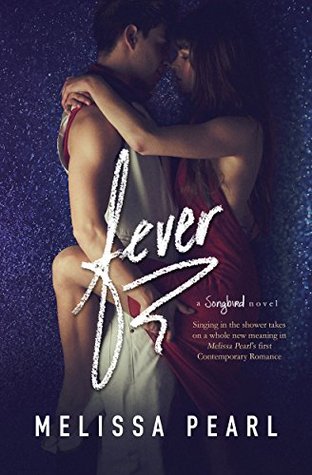 I've been wanting to read a Melissa Pearl book for a while now and this month I plan on reading two- Shoot the Gap is under her penname Jordan Ford.
This book is free on the Kindle store.
It is the first book in the Songbird companion series. It is also new adult.
Ella Simmons does not want to move across the country. But she is, because her boyfriend has persuaded her to join him at UChicago to finish out her college education. Never able to tell him no, she hops on a plane and makes the trek from LA expecting to adjust to life like she's often forced to, but things are not that simple when she hears a luscious voice singing over her shower wall. His deep, sexy tenor makes her weak in the knees, spreading fire through her limbs and making her question everything about her life and relationship.

Can one voice really have that much of an impact?

Cole Reynolds is on his way out. In his final year at UChicago, the only thing he wants to do is finish school and get on with his life. But the sweet voice that interrupts his morning shower turns his world upside down. Compelled to find his shower songbird, he begins a search across campus. The only thing to distract him from this goal is his roommate's gorgeous girlfriend who's just arrived from LA – Ella Simmons.

Relationships are put to the ultimate test as future dreams are questioned and friendships are thrown on the line for love.
I really hope to read all of these this month. It's not a lot but I start a new job in July so I won't have as much time as usual.
What books are on your TBR for July?