Before beginning this Q&A, I would just like to thank everyone who followed my blog and also everyone who supported me on my journey. I really, really appreciate it! I'm so thankful for all of you. And, also thank you to everyone who asked a question and didn't make this Q&A a failure.
I would just like to let you know that Abbie is no longer going to be blogging here because she doesn't have the time with her study. But, I'd also like to thank her for the effort she put in while here.
So…
THANK YOU ALL! ❤
And, I just realised something…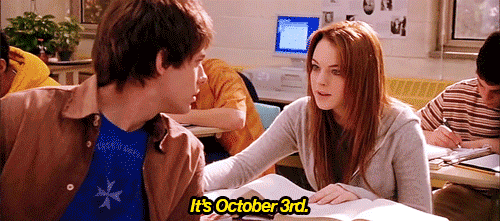 On to the questions:
What one thing do you love about blogging the most?
It was really hard to decide on one thing but I'm going to say talking to people. I really love talking to people on my blog and others on their blogs. I've made so many new friends and that makes me so glad that I started blogging. It's great knowing and talking to people who love books just as much as I do.
 

What were you most anxious about starting your blog or about the blogging world in general? What do you think of those worries now that you are 6 months in ?


Also Congratulation on you 6 months Blog-anniversary!
To be honest, I was scared of failing again. My blog was supposed to be a start off of my new and improved, healthy self and I was scared that I wasn't going to make any friends or get any reads. Or, else I would get both and then I'd fail them by being unable to manage and quitting. I think, the latter is still a possibility but I've been keep care of myself and am hoping nothing like that happens. I've made it this far and am hoping to reach the 1 year milestone. Also, thank you! 🙂
Congrats on your 3-month Bloggiversary! My question: Blogging can be very time consuming… What are some tips you have on time management?

-Oops! I meant 6-month! Idk why I said 3-month! (I had July 3rd in my mind lol)
Thank you! Indeed, it can. I'm still working on time management, especially with all of these new classes I have. I can never predict the workload. But, in saying that, I have picked up a little something.
1. I like my lists. I'm that type of person. And, I find that making lists of the tasks I need to do really helps. That way, I'm not stalling by trying to decided what I need to do next because I know, I've written it down. It's super helpful if you don't have a lot of time but have a lot of things to do.
2. If you use images for your posts, have them premade. For example, all of my TBR posts and wrap ups have the same images each month. What I do is keep this image with the title, for example, TBR, and, when I need it, all I have to do is slap on this month and BAM. Done. It's quick and doesn't take up that much time.
3. When I have a lot of free time, I pre-write and schedule posts. If you don't have a lot of time during the week like me but do at the weekend, write a few posts and schedule them. It's so much easier than stressing over getting a post written and up in time for a specific date.
4. For reviews, if you have free time during the weekend, like the post above, get your review post ready. Fill in all the categories and tags. What I do is get the whole post complete but leave a blank space for the star rating and review. Then, when I'm finished the book, I add the rating, review and schedule. It takes half the time. Especially if you've got a deadline to meet with your review. So useful. And, even if you've only got a little time on your laptop, you could do one simple task in the post.
Happy six month blogiversary!!


My question is: When did you stumble upon the blogging community and what made you decide to blog?
Thank you 🙂
I think, around late 2013/early 2014. I mean, I knew blogs existed then, I just didn't read any. But, I'm so glad I began because I love blogging.
You'll see my full explanation coming up soon but basically, I was trying to improve my life and blogging was an outlet I wanted to try. I loved reading and talking about books, as well as writing so I thought, why not? Ultimately, I failed. But, only because my mental health deteriorated. Finally, when I was willing to try again, this blog came about and well, you can decide how well I'm doing. I'm pretty proud of myself though. I've come far with both getting better and getting this blog better.
–
Are you studying anything
Yupity, yup, yup. Please don't ask. Still not 100% sure but I think I'd like to be a college lecturer in English and a modern language. Which means, getting a PhD and study for quite a number of years. I may only further to do a PhD in one of those. The modern language I take is French but I'm also currently learning Italian.
What do you use to make your graphics? Something you recommend for an inept person like me? I tried Canva and I don't think they look "special enough" when I try to make them…
I plan on doing a full discussion on this (coming soon) but I used Pixlr and Gimp. Mainly, I just use Gimp for fonts. You can download free fonts of websites and use them in Gimp.
If you haven't heard of either of these, Gimp is a downloadable (free) computer software for image making/editing/whatever and Pixlr is both downloadable and available online.
I'm sure you're not "inept" but for someone who doesn't do that much editing, Pixlr Express is great. It's easy to use, has many different fonts/features/stickers etc. and is free. Just have a go with messing around on it. It really is a great thing to have.
Oh, also a tip: if you have an image, say, I don't know, a person standing with a coloured background behind them and want to crop them out, what I do is go onto Powerpoint, upload the image and automatically, a thing pops up to remove the background of the image (2013 version). You can mess around with it but it's quick and does a really good job of getting rid of backgrounds.

Thanks again to everyone who asked a question!