So, because it's Valentines I decided to do a post and recommend 6 (no, not 5. I didn't know which not to include.) young adult and new adult romances that I have read and enjoyed.
There is also a separate post on my Top 6 New Adult Romances!
These are in no particular order.
(Book covers are linked to Goodreads.)
The Summer I Turned Pretty by Jenny Han
Every year Isabel spends a perfect summer at her family friends' house. There's the swimming pool at night, the private stretch of sandy beach… and the two boys. Unavailable, aloof Conrad – who she's been in love with forever – and friendly Jeremiah, the only one who's ever really paid her any attention. But this year something is different.
This is the first book I took out from my school library back when it was released! It was the best book I'd ever read (this was back when I only began reading YA). I love the relationships between Belly and the two boys but also the parents, such as Suzanne, the boys' mom. I'd really recommend this if you want something simple and easy or if you're just looking for a taster of YA romance.
[This book is followed by It's Not Summer Without You and We'll Always Have Summer.]
99 Days by Katie Cotugno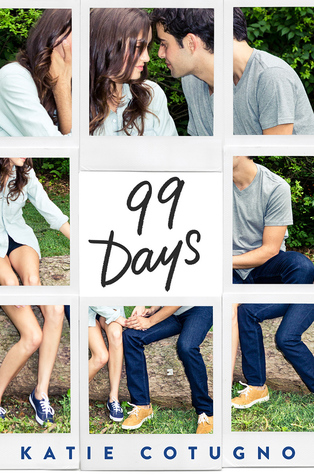 Day 1: Julia Donnelly eggs my house my first night back in Star Lake, and that's how I know everyone still remembers everything—how I destroyed my relationship with Patrick the night everything happened with his brother, Gabe. How I wrecked their whole family. Now I'm serving out my summer like a jail sentence: Just ninety-nine days till I can leave for college, and be done. Day 4: A nasty note on my windshield makes it clear Julia isn't finished. I'm expecting a fight when someone taps me on the shoulder, but it's just Gabe, home from college and actually happy to see me. "For what it's worth, Molly Barlow," he says, "I'm really glad you're back." Day 12: Gabe got me to come to this party, and I'm actually having fun. I think he's about to kiss me—and that's when I see Patrick. My Patrick, who's supposed to be clear across the country. My Patrick, who's never going to forgive me.
So, this book is the complete opposite to the one above. I know a lot of people absolutely hate this book. But, I don't know, I liked it. It's definitely easy to see why a lot of people hate it and, somewhere deep within myself, I know I should hate it too, but I don't. (The covers of all Katie Cotugno's book are really nice. I unfortunately have the block-coloured UK edition.)
Everything, Everything by Nicola Yoon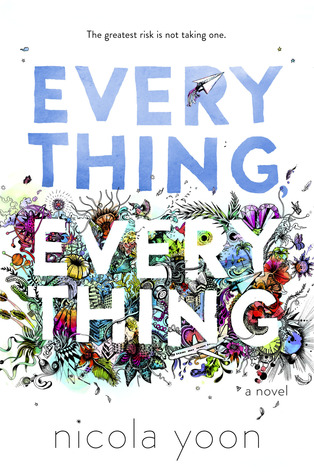 My disease is as rare as it is famous. Basically, I'm allergic to the world. I don't leave my house, have not left my house in seventeen years. The only people I ever see are my mom and my nurse, Carla. But then one day, a moving truck arrives next door. I look out my window, and I see him. He's tall, lean and wearing all black—black T-shirt, black jeans, black sneakers, and a black knit cap that covers his hair completely. He catches me looking and stares at me. I stare right back. His name is Olly. Maybe we can't predict the future, but we can predict some things. For example, I am certainly going to fall in love with Olly. It's almost certainly going to be a disaster.
Technically, I can't recommend this seen as I haven't actually finished reading it yet but I am in love! This book is just so damn cute. I thought I was too old to be reading books like this but I swear I was the wrong-est (yep, I made a new word) I've ever been. I want to own fifty copies of this book. (Including the audiobook which I mention in tomorrow's post.) An incentive the read this: it's going to be a movie and, even though I said this wasn't in any particular order, this book is at the top of my list.
The Lovely Reckless by Kami Garcia
I've become and expect at avoiding this that could hurt me- which means I will figure out how to stay away from Marco Leone.
Seventeen-year-old Frankie Devereux would do anything to forget the past. Haunted by the memory of her boyfriend's death, she lives her life by one dangerous rule: Nothing matters. At least, that's what Frankie tells herself after a reckless mistake forces her to leave her privileged life in the Heights to move in with her dad—an undercover cop. She transfers to a public high school in the Downs, where fistfights don't faze anyone and illegal street racing is more popular than football. Marco Leone is the fastest street racer in the Downs. Tough, sexy, and hypnotic, he makes it impossible for Frankie to ignore him—and how he makes her feel. But the risks Marco takes for his family could have devastating consequences for them both. When Frankie discovers his secret, she has to make a choice. Will she let the pain of the past determine her future? Or will she risk what little she has left to follow her heart?
Yes, I was disappointed with this book, I will admit it. BUT, I think that was only because I was expecting so much more. If you aren't a big reader of romance, I definitely recommend this because it's quick and easy to get through but it's also filled with a little emotion and some car racing. Who doesn't love a good illegal street race? I'd definitely be there if I were from the Downs. I think I was a little disappointed because I've read so many books like this- something illegal, hard-core romance, stereotypical "good girl" (before moving to the downs)/"bad boy" romance- and it just didn't compare. I was expected more of a new adult, don't-hold-anything-back book than this. Still, check it out.
Confessions of a Queen B* by Crista McHugh
Alexis Wyndham is the other type of Queen B—the Queen Bitch. After years of being the subject of ridicule, she revels in her ability to make the in-crowd cower via the exposés on her blog, The Eastline Spy. Now that she's carved out her place in the high school hierarchy, she uses her position to help the unpopular kids walking the hallways. Saving a freshman from bullies? Check. Swapping insults with the head cheerleader? Check. Falling for the star quarterback? So not a part of her plan. But when Brett offers to help her solve the mystery of who's posting X-rated videos from the girls' locker room, she'll have to swallow her pride and learn to see past the high school stereotypes she's never questioned—until now.
I LOVED THIS BOOK SO MUCH! Back in October this wasn't on my TBR but I picked it up when it was free on Amazon and I was sick and read it in one sitting. It's quite the slow burn romance (as in there's another two books) so, if you're definitely not up for that, maybe pick another of these recommendations. I'm so glad I got it because I enjoyed it so much. (I would recommend this for readers more on the older side.) Also, this book is really funny!
[This book is followed by: The Queen B* Strikes Back and The Queen B* and the Homecoming King.]
Lastly,
Serial Hottie by Kelly Oram
Hockey-obsessed tomboy Eleanor Westley has never been the object of a guy's affection before. So when the hottest boy she's ever seen moves in across the street and starts treating her like she's the center of his universe, naturally she's going to be a little skeptical. But everything starts to make sense when girls who look just like Ellie start dying all around the city. Obviously the new guy is the killer, and of course he only likes her because he wants to slice her into tiny pieces. Right? The more Ellie gets to know Seth the more she's convinced he's a psychopathic killer. Problem is, he's the sweetest psychopathic killer she's ever met. Not to mention he's brutally hot. No matter how hard she tries, she can't help but fall for him. Will Ellie find true love, or will her summer of firsts turn out to be a summer of lasts?
I read this book back a few years ago. It was the first Kelly Oram book I read and it remains my favourite. This is really one where you're kind of freaking out in it. You're like, "NO! He can't be the killer. He's too nice. But… everything points to him. Oh God." And then, "Okay. He's a serial killer but he's not real. You can like him in your head. Just never admit it out loud." I think Eleanor felt the exact same way. I definitely loved this book and must give it a re-read soon.
So, they're all of my YA romance recommendations. Tell me, have you read any of these? Did you enjoy them?
Thanks for reading!