TOP 5 WEDNESDAY is a weekly meme created by Lainey @ Gingerreadslainey and now hosted by Sam @Thoughtsontomes. Check out the Goodreads group for more information. I'm so excited to be joining this meme because I have been watching the Booktube videos for quite some time.
This week's topic is Favourite Non-Written Novels- graphic novels, audiobooks, manga etc.
5. Tír na nÓg
So, I'm not exactly sure if this, or my fourth pick, count but I'm going to go with it. Tír na nÓg ( deer with a T, na, NO-gh) is an Irish legend. Although it has been written, it was carried down by word of mouth and so the many written versions may differ slightly.
Tír na nÓg is the story of Oisín (Ush-een), mhac Fionn Rí na Feinne (whak Fee-un ree na fay na) (son of Fionn the king of na Fianna, who are the army.) Along comes beautiful Niamh Cinn Óir (Neeve kin or), a princess from a magical land called Tír na nÓg where no one grows old. (Tír na nÓg means like country of youth.) She casts a spell on Oisín because she's fallen in love with him and takes him back to Tír na nÓg. He has a happy life but misses his dad and the army so heads back to Gleann na Smól (glown (rhyming with clown) na smowl (rhyming with bowl) to find them. But, of course, it's been many years and they're dead. He ends up trying to help a group of men lift this really heavy stone (because he's super strong) but ends up falling off his horse and his years catch up to him and he turns into an old man. The men take him to St. Patrick to whom he tells his story. The end.
Yes, i did kind of spoil the end but it's very short and in Irish anyway.
(Side note: did you like this Irish? I was thinking of doing some Irish/Ireland related posts. What do you think?)
Don't worry, the following choices you will not be spoiled for.
4. A Doll's House by Henrik Ibsen
A Doll's House, written two years after The Pillars of Society, was the first of Ibsen's plays to create a sensation and is now perhaps his most famous play, and required reading in many secondary schools and universities. The play was highly controversial when first published, as it is sharply critical of 19th Century marriage norms. It follows the formula of well-made play up until the final act, when it breaks convention by ending with a discussion, not an unravelling. It is often called the first true feminist play, although Ibsen denied this.
So, this also has been written and i have yet to watch any movie or stage adaptations (because I only recently finished it) but I really liked this. It was quite short and easy to fly through and, while I did have some problems with it, overall, I enjoyed it quite a bit.
3. Scott Pilgrim by Bryan Lee O'Malley
Scott Pilgrim's life is totally sweet. He's 23 years old, he's in a rockband, he's "between jobs" and he's dating a cute high school girl. Nothing could possibly go wrong, unless a seriously mind-blowing, dangerously fashionable, rollerblading delivery girl named Ramona Flowers starts cruising through his dreams and sailing by him at parties. Will Scott's awesome life get turned upside-down? Will he have to face Ramona's seven evil ex-boyfriends in battle? The short answer is yes. The long answer is Scott Pilgrim, Volume 1: Scott Pilgrim's Precious Little Life
Throughout each volume Scott has to face a different boyfriend of hers. it's quick, kind of ridiculous but it's fun!
2. Everything, Everything by Nicola Yoon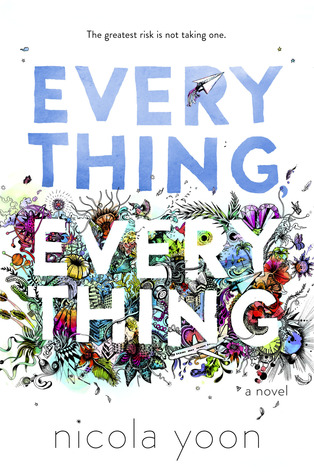 My disease is as rare as it is famous. Basically, I'm allergic to the world. I don't leave my house, have not left my house in seventeen years. The only people I ever see are my mom and my nurse, Carla. But then one day, a moving truck arrives next door. I look out my window, and I see him. He's tall, lean and wearing all black—black T-shirt, black jeans, black sneakers, and a black knit cap that covers his hair completely. He catches me looking and stares at me. I stare right back. His name is Olly. Maybe we can't predict the future, but we can predict some things. For example, I am certainly going to fall in love with Olly. It's almost certainly going to be a disaster.
This book has been everywhere! You'd want to have lived in a cave not to have heard of it! I definitely wanted to check it out but I just couldn't get a copy. So, finally, I found the audiobook on my local library's Overdrive. Best thing ever. I was so excited and the audio narrators (I have no idea what you call them) are just so animated. The main lady who does the voicing changes her voice for every character. Even her accent! It was just so fun and cute to listen to! [I'd recommend listening to the book while also having the book with you. You experience is enhanced so much more and, if you don't have the book, you miss out on the scrapbook-like format and fun little things inside. (I had no idea they even existed in the book.)]
1.Vendetta by Catherine Doyle
When it comes to revenge, love is a dangerous complication. With a fierce rivalry raging between two warring families, falling in love is the deadliest thing Sophie could do. An epic debut set outside modern-day Chicago. When five brothers move into the abandoned mansion in her neighbourhood, Sophie Gracewell's life changes forever. Irresistibly drawn to bad boy Nicoli, Sophie finds herself falling into a criminal underworld governed by powerful families. As the boys' dark secrets begin to come to light, Sophie is confronted with stinging truths about her own family, too. She must choose between two warring dynasties – the one she was born into, and the one she is falling in love with. When she does, blood will spill and hearts will break.
It's no secret that I love books about the mafia and this was no different. I was especially excited to pick this book up because the author is Irish also. I talked about this in one of my October wrap up but anyway, I started reading it when it was first released and I listened to the audiobook back in October. I really enjoyed it because again, like the lady narrating in Everything, Everything, she was extremely animated and I was so excited to be listening and getting to the end. Unfortunately, the second book does not yet have an audio but I'm really hoping it's the same person if they do decide to record it.
So, that's my T5W! Hope you enjoyed. If you participated, what's on your list this week? If not- or if you have and you want to answer- do you have any audiobooks you've listened to and would like to recommend?
Thanks for reading!